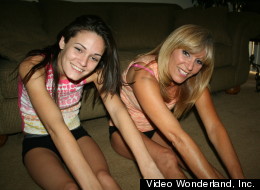 A mother and daughter duo who make porn films together are looking for a father-son team willing to join them on camera.
Jessica Sexxxton, 56, and her daughter, Monica, 22, have been shooting sex scenes together for the last 18 months for their own self-titled website, sometimes sharing the same partner, but not at the same time and never with each other — a technicality that keeps their films from being legally considered incest.
Now the Tampa, Fla.-based twosome are hoping to take their unorthodox relationship to the next level, with a nationwide search for a real father and son willing to shoot a porn film scene with them.
"It's something we've considered for a while," Jessica Sexxxton told The Huffington Post. "We once dated brothers in real life on and off for a couple of years. They were closer to [Monica's] age, but we haven't done a father and son in real life or on camera."
Like the Sexxxtons, the father and son won't have sex with each other, but Monica already has the scenario for this sordid family affair in mind.
"Something like, 'Hey Dad, my girlfriend's got a hot mom,'" Monica hypothesized to HuffPost. "But we'd probably cater to the fantasy by having the father have sex with me."
The Sexxxtons tried casting a scene before using non-related actors as the father and son, but Monica said she didn't like the results, because the man cast as the "Dad" "looked too much like the "Cockroach" guy from that movie, 'Men In Black.'"
If you come across any indecent photos, leaks, nudes, sextapes or videos, bring them to us,and It Will Be Published Here On Naijauncut SEND IT TO US THROUGH EMAIL support@naijauncut.com OR WhatsApp: +2348163548145 OR Telegram: +2348163548145 OR BBM: DDC3AD7A
The best browser to use for our website is google chrome or mozila Firefox and opera. Do not ignore this warning and complain that you can not download our videos. Thank You. Try to share the post so that your friends too will get access. In doing so it will help us to be able to pay for the hosting fee so that we can always bring you hidden secrets and the bad deeds going on behind closed doors. The point of sharing this? If Ladies could listen to our advice, it will be to their own good because guys are not what they always appears when in happy mood. They turn to show different colours when they are bitter. And giving your nude pictures to your guy will not make him love you more. It rather puts your hand in his mouth as when you hit him on the head, he will have no option than to bit you. A word to a wise lady. Oh yeah we do try our best to keep you guys informed with what is going around you. And yeah this should serve as a lesson to everyone especially the female reader. Your past can hunt you this should preach, never use your today to kill your future. My take: Never ever on any circumstance allow yourself to be video taped in any form whatsoever in the name of love or fun. the consequences can be really disastrous! Beware!