Notice:Naijauncut will never contact you to demand money in order not to release your leak or secret. Naijauncut does not work with anybody who will contact you. Naijauncut does not contact people (you will have to contact us). If you are contacting us, make sure its only the official number Below the Page OR With our email which is displayed on the website. Apart from this number, any other number that contacts you is scam. Don't fall victim to blackmailers and scam.
February 14th is a day where you are supposed to celebrate your love for your partner and treat each other to a great day. However, many people find that for Valentine's day the usual date of a fancy dinner is getting to be a bit of a cliché, along with becoming boring and overdone. Some may even say it is becoming a rut since this classic date is starting to become a tiring classic for some.
But, it doesn't have to be that way. There is no set definition of what love is and how you are supposed to express it. In fact, every person's love is different because every relationship is unique due to people being their own selves.
That is the beauty of love when you find it, it is so special, rare, amazing, and essentially indescribable because you make it your own and it is only shared between the two of you.
So why not make this Valentines day your own, by making it suit you and your partner, along with the love the two of you share? Make this Valentines special and perfect by using some of YouQueens original date ideas for Valentine's day!
Go dancing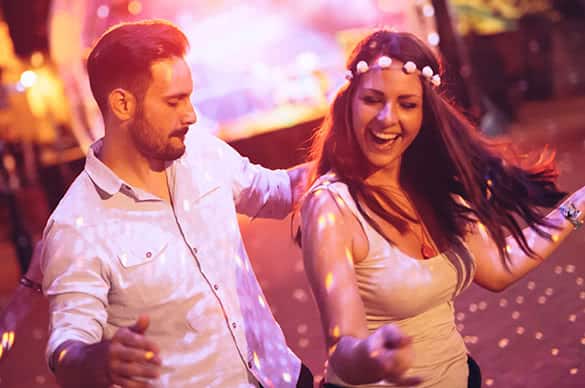 This original date idea for Valentine's day isn't any random club. Instead, this date idea involves the two of you going to a salsa club where you can dance the night away and have lots of fun. This is a perfect idea, even if you don't know what you're doing because you can just watch others and you'll quickly pick up the groove.
Even if you don't, you can just do some normal dancing, because you and your partner will be so busy just having fun, making memories, and loving every minute in such an amazing atmosphere.
Boat cruise
Surprise you Valentine with a night out at sea by going to a dinner and dance cruise. There are plenty of these for various occasions and they are all amazing.
You'll both enjoy a romantic meal together, and will then be able to dance the night away as you float along. Not only is this fun, but there is also a beautiful view of the city skyline or nothing but water and sky surrounding you.
If you want to escape the people and also the noise, then head out to the outdoor area of the boat. There, you can just hold each other in each other's arms while you talk, kiss, share your love for each other, and enjoy each others company.
Not only will you both be feeling extra romantic, but you will also get to look at each other and the beautiful waters for your day of love.
Weekend getaway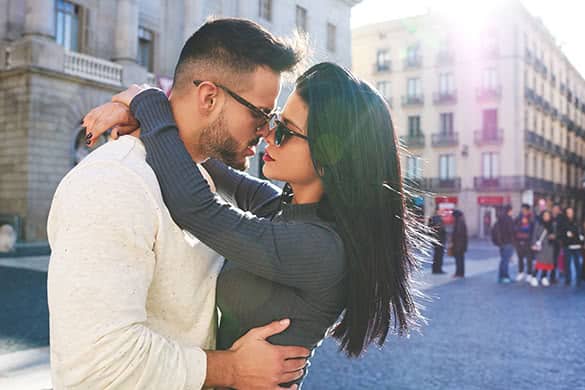 Spend your Valentines day by getting away from the world for the weekend so you can just spend time focusing on each other. Rent a log cabin somewhere in a beautiful forest, enjoy nature, and each other. Or, hop on a plane and go somewhere tropical.
No matter where you go for your getaway weekend, incorporate Valentine's day and keep it romantic by tossing away your phones in some drawer. This way you can just immerse yourselves in each other on this very romantic weekend getaway.
Clubbing
If this original date idea for Valentine's day screams fun, excitement, and love for you and your partner, then go to your favorite club/rave where your favorite DJ is playing. Spend your Valentines day grinding and partying the night away together!
Couples retreat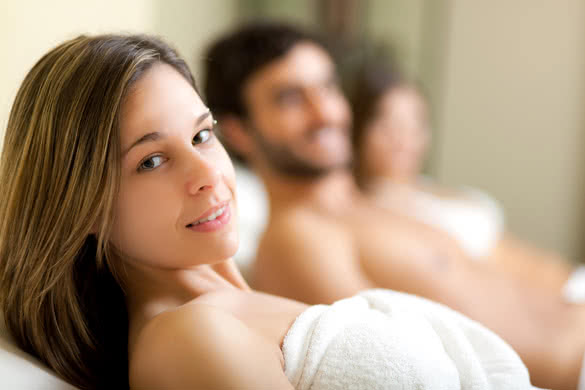 Do a couples retreat from your own home. Buy face masks, body oils, and some nice bath salts.
Spoil each other as you both relax and unwind together. If you chose this date idea for Valentine's day, you will even get to massage your partner and take baths with them.
James Bond style
This is a fantastic and original date idea for Valentine's day because it is romantic, sexy, adventurous, and mysterious.
For this, to work, you have to leave a note and formal outfit at the doorstep of your partner. On the note, you would write something sweet and romantic, and also something that says what time your picking them up and to wear what's in the box.
Then take them to a surprise event such as a play, musical, dinner at a very special venue, a classical concert, or a gala.
Sunset at the beach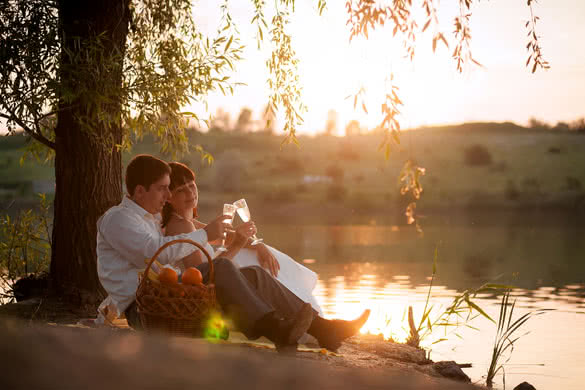 Go to the beach, and watch the sunset as you sit on the sand drinking and eating a delicious dinner (take out works for this as well). This is a very romantic way to spend Valentine's day as you will just be able to sit, talk, look at a beautiful view together, and also look at each other.
As much as this may sound lame, or like an overrated and over done scene from romantic movies. It is still an amazing date because it is simple, allows you to focus on each other, and it is also beautifully romantic.
Stay at home
Yes, that's right just stay home and hang out together. As much as this may sound lack luster. It is actually very sweet and romantic because when you love a person all that matters is that you are hanging out together.
This date idea for Valentine's day is one that can be just as magical, or even more magical than the others. It will be as amazing as you make it.
So cook or order in an amazingly delicious meal, sit by the fire place, drink some wine, eat and talk. When your done eating, curl up and cuddle together as you watch movies, talk, and just enjoy each others company.
Go skating
Go to an ice rink, hold hands, and just talk and make memories as you both glide on the ice. This is a very romantic date, even if one of you don't know how to do this. If that is the case, your partner will teach you, hold on to you, and will catch you if you fall.
Paint
You can do this original date idea at home, or at a painting store. Either way, it is very sweet and romantic to sit down in front of a canvas and to just talk as you both paint paintings for each other.
Go bowling
Go on an old school date and go to a bowling alley. This may sound grimy, un attractive, or even juvenile. However, it isn't. Instead, it is tons of fun and the both of you will not only laugh, but the two of you will also bond over becoming competitive and waiting to see who wins.
Hike
Spend Valentine's day surrounded by the beauty nature has to offer. As you enjoy the crisp, fresh air, you will also just enjoy the view and co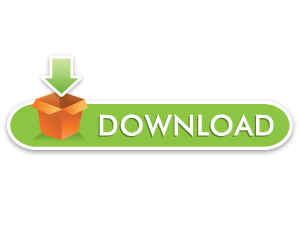 FOR Complain/Post Removal: SEND Message To Our Email ([email protected])
You can follow us on twitter
WhatsApp: +2348163548145

OR

Telegram: +2348163548145
The point of sharing this?
A lot of bad people are using nude pictures to scam innocent people especially white men and women. If they lay their hands on your naked pictures they can use it as a scam material to aid them in their bad adventures. When your naked pictures are uploaded here you can contact us for removal so far you have proof! Pictures and Videos removed from this site is free! WE DONT charge a DINE
If Ladies could listen to our advice, it will be to their own good because guys are not what they always appears when in happy mood. They turn to show different colours when they are bitter. And giving your nude pictures to your guy will not make him love you more. It rather puts your hand in his mouth as when you hit him on the head, he will have no option than to bit you. A word to a wise lady.
Oh yeah we do try our best to keep you guys informed with what is going around you. And yeah this should serve as a lesson to everyone especially the female reader. Your past can hunt you this should preach, never use your today to kill your future.
My take: Never ever on any circumstance allow yourself to be video taped in any form whatsoever in the name of love or fun. the consequences can be really disastrous! Beware!