Although the day of love, A.K.A Valentine's day, has passed, it doesn't mean you still can't put on a sexy show and surprise your partner in the sexiest ways possible. No matter the occasion, if there is even one, you can still blow your partner's mind with sexy surprises. After all, sex, love, affection, and gestures of your love are important parts of a relationship.
So take your partner out on a romantic date, but then take them home for some sexy surprises that should be kept behind locked doors. After all, you're meant to enjoy each other in every single way, on various days. That's not only meant to be done for Valentine's Day.
In fact, many people find that after Valentine's Day, there is a slight slump in the romance which brings that lack-lustre, feeling. It also puts some stress and strain on relationships. However, that isn't meant to happen. Instead, you are supposed to show your love, affection, desire, spark, and connection all the time.
There is just one issue that gets in the way. You may want to show your partner this, and give them a sexy surprise, but that may even be something that is redundant and will add to the rut.
There is a common misconception that the only sexy surprise to blow your partner's mind is to have passionate, amazing, sex. Although sex is a great way to celebrate your love for each other, there are many other sexy surprises you can do before you hit the sack together.
So celebrate your love, and blow your partner's mind with these sexy surprises. However, do it in a way that is original, new, fresh, exciting, and will add to the spark and desire in your relationship.
Read on to find out the best sexy surprises to blow your partner's mind!
Boudoir photo shoot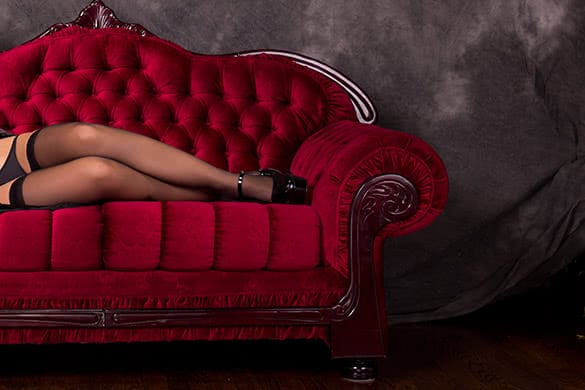 This sexy surprise can happen in two ways. You can either get these photos done and printed for your partner before Valentines Day, and you can hand the pictures to them while you are lying in bed after you've already had sex. After all, when your partner sees you in these sexy poses, they will be more than ready for another round in bed with you.
Or, you can do the second way which is even more personal and intimate. You can hand your partner a camera and tell them that the two of you are doing a boudoir photo shoot for each other. As they take photos of you in the various sexy poses, they will be getting more and more turned on and will be ready to go. You will also be feeling the same as you take photos of your partner until you both can't take it anymore, and will be dying to jump into bed together.
Of course, after you two have done this, you will be able to get these photos printed. These photos will both make you very happy and they will be a great reminder of your amazing day together.
Make love and art
A great surprise involves a tarp and a lot of body paint. For this surprise, you will get to paint all over your partners' body, and they will also get to paint yours, in an array of colors. For this to work, you both need to slather lots of paint on each other, which will be very sexy and intimate.
After the two of you are done rubbing paint all over each other, you can then take it to the tarp. While you both have sex and go through various positions and movements you will be leaving paint marks from the labors of your love all over the tarp.
With this sexy surprise, you will both be making passionate, beautiful, and sexy art, which will definitely add to your relationship.
NOTE: Naijauncut Will Never Ask You To Pay For Anything Or Neither Do we Pay For Videos Or Pictures!! SO? Dont Get Scammed
If you come across any indecent photos, leaks, nudes, sextapes or videos, bring them to us,and It Will Be Published Here On Naijauncut SEND IT TO US THROUGH EMAIL support@naijauncut.com OR WhatsApp: +2348163548145 OR Telegram: +2348163548145 OR BBM: DDC3AD7A
The best browser to use for our website is google chrome or mozila Firefox and opera. Do not ignore this warning and complain that you can not download our videos. Thank You. Try to share the post so that your friends too will get access. In doing so it will help us to be able to pay for the hosting fee so that we can always bring you hidden secrets and the bad deeds going on behind closed doors. The point of sharing this? If Ladies could listen to our advice, it will be to their own good because guys are not what they always appears when in happy mood. They turn to show different colours when they are bitter. And giving your nude pictures to your guy will not make him love you more. It rather puts your hand in his mouth as when you hit him on the head, he will have no option than to bit you. A word to a wise lady. Oh yeah we do try our best to keep you guys informed with what is going around you. And yeah this should serve as a lesson to everyone especially the female reader. Your past can hunt you this should preach, never use your today to kill your future. My take: Never ever on any circumstance allow yourself to be video taped in any form whatsoever in the name of love or fun. the consequences can be really disastrous! Beware!